DUI Accident Law Firm
The Spivey Law Firm, Personal Injury Attorneys, P.A., focuses its practice on representing clients who have been involved in all types of accidents. However, the attorneys take special care to represent clients who are victims of DUI accidents. We know that the effects of an accident can be overwhelming and devastating for a victim and his or her family. DUI accident injuries often can be severely debilitating, permanently disabling, and even fatal. When you find yourself or a loved one in this situation, you need legal assistance that you can count on to answer your questions and calm your concerns. It is imperative to find a lawyer who will be a tough advocate on your behalf, seek justice from those who have wronged you, and stick by your side every step of the way. This is the type of legal service that our Fort Myers DUI accident law firm is dedicated to offering you.
We Will Fight For Compensation for Your Injuries
When a driver causes an accident while under the influence of alcohol or drugs, and that accident results in injuries or death to another, that driver is typically charged criminally, and will face penalties through the criminal justice system. These penalties may include fines, loss of one's driver's license, and jail or prison time. All too often, however, the penalties handed down by the criminal justice system do little to relieve the victim's pain or address the often permanent injuries that a victim has received as a result of the accident. In this respect, a DUI accident victim may come away feeling short-changed by the criminal justice system.
Fortunately, this is where your attorney comes in to help you achieve true justice in your case. By holding the perpetrator of your injuries liable through the civil justice system, you can hold that person responsible for the havoc that he or she has created in your life. Your actions can also send a message to the community at large about the impact that a drunk driving accident can have on a person's life. In holding a drunk driver financially responsible for the consequences of his or her actions, you can stand up for the rights of all drunk driving victims in the state and nationwide.
Fort Myers Location - Serving All of Florida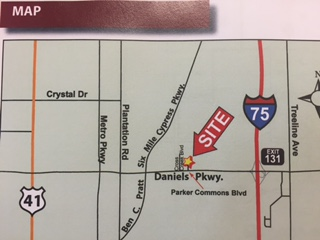 The Spivey Law Firm, Personal Injury Attorneys, P.A. is located at:
13400 Parker Commons Blvd.
Fort Myers, Florida 33912
Spivey Law Firm, Personal Injury Attorneys, P.A. is located off Daniels Parkway, between Six Mile Cypress Parkway and I-75 in Parker Commons. Parker Commons is adjacent to Cross Creek Country Club and across the street from Church of the Cross.
Lee: (239) 337-7483
Collier: (239) 793-7748
Charlotte: (941) 764-7748
Toll Free: (888) 477-4839
Fax: (239) 337-7484
Email: randall@spiveylaw.com
The Spivey Law Firm Websites:
SpiveyLaw.com
HurtByDrunkDriver.com